We receive questions about the proper ways to word wedding invitations, so today we are going to talk about the appropriate ways to address your wedding invitations.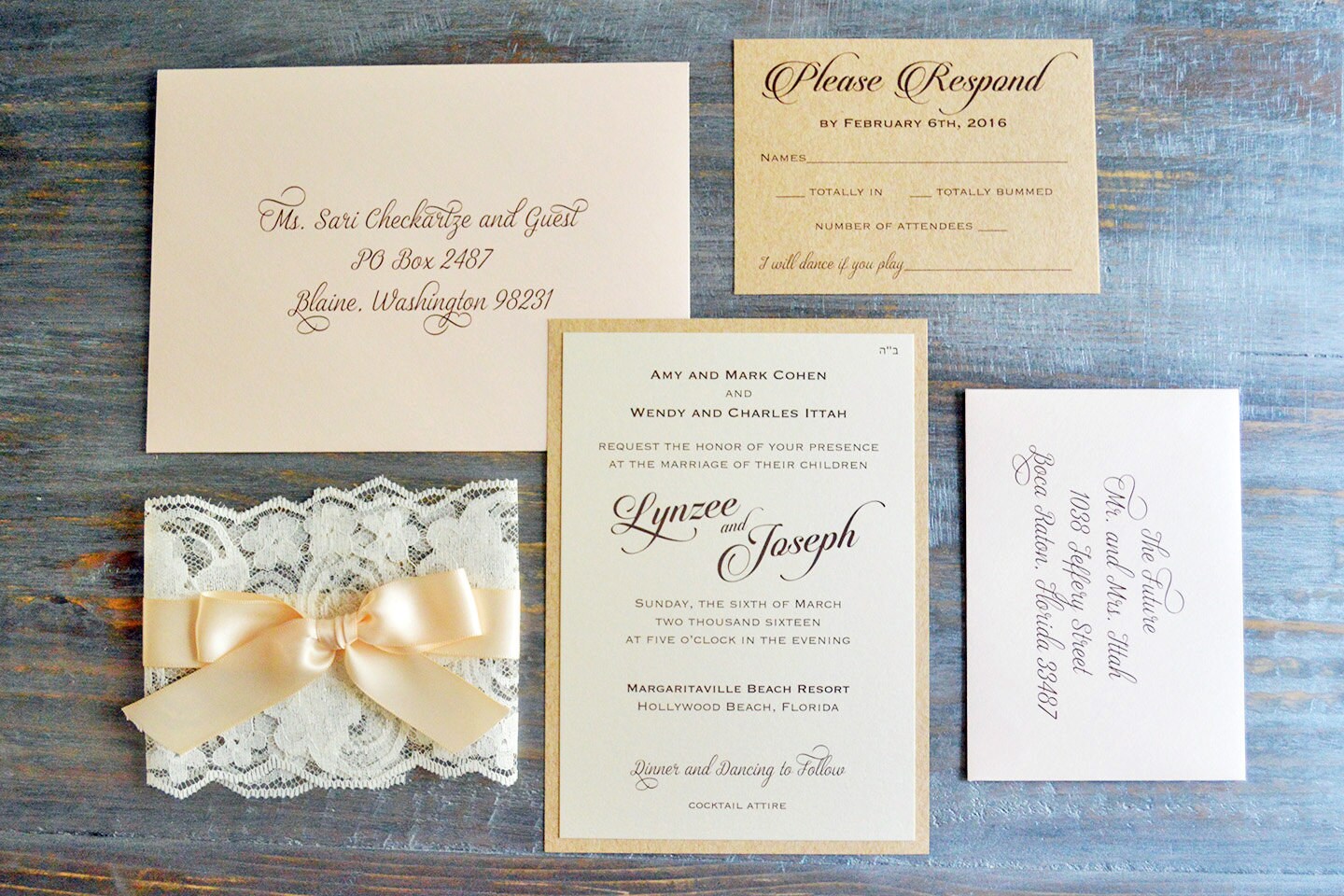 NAMES
Traditionally, the names on the outside of your envelope should be formal with titles and full names of your guests.  These days lots of couples are opting to use only outer envelopes for their wedding invitations, some to save a little money on their invitations and some to save the hassle of having to address both the inner and the outer envelope.  The following guidelines give examples for the most common situations, and are intended for invitations using only one main envelope.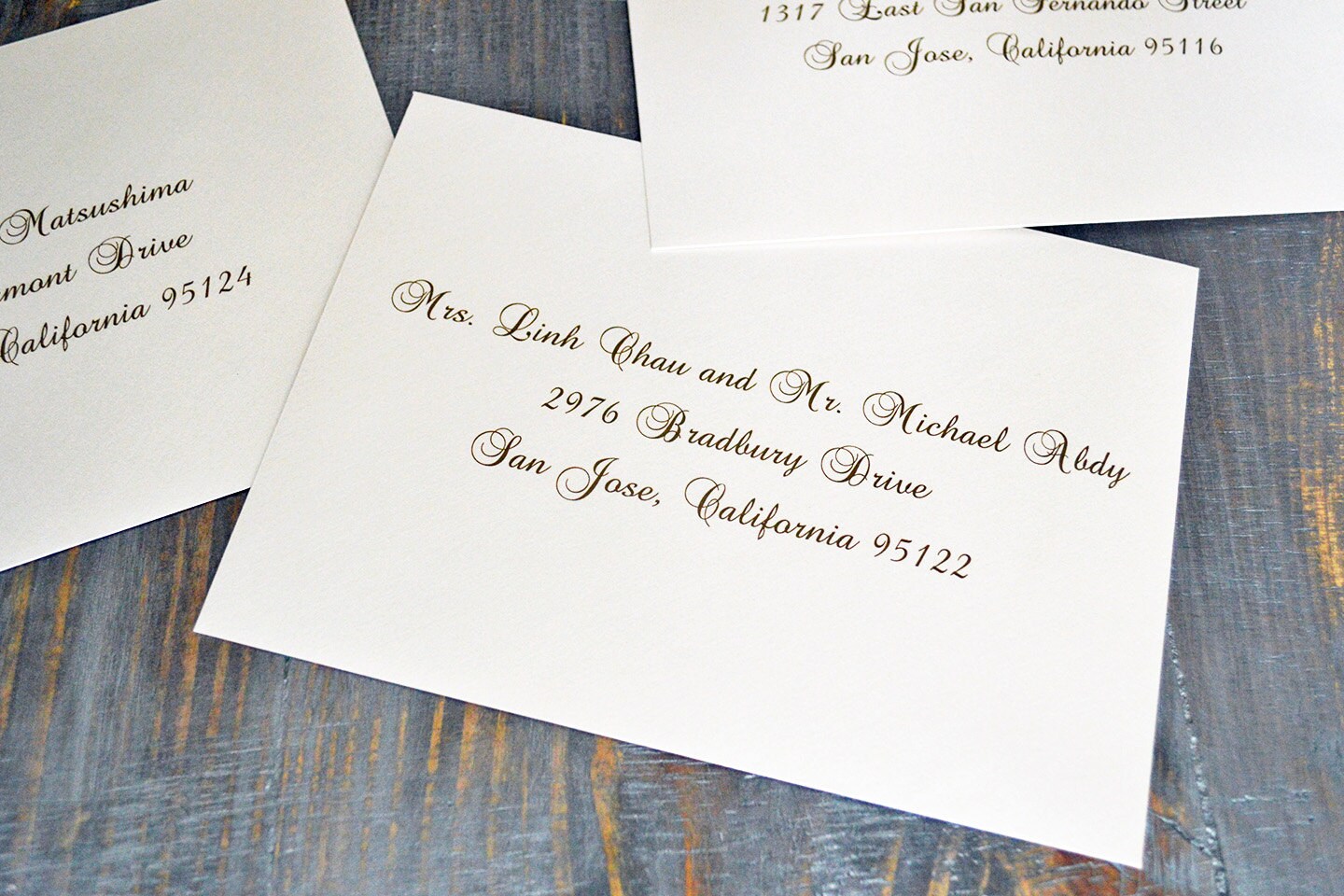 Mr. Stephen and Mrs. Caroline Forbes
Or
Mr. and Mrs. Stephen Forbes
Include the person you're closest with first on the outer and inner envelopes. If you know both of them well, list them in alphabetical order.
Mr. Stephen Forbes and Mrs. Caroline Pierce
As with a married couple, both names should be included on the envelopes, but each name will get their own line.
Mr. John Gilbert
Ms. Lilly Donovan
For a single guest bringing a plus one, use their full name with titles followed by "and Guest." If you know whom he or she will be bringing, it's more personal to include that person's name, on a separate line.
Mr. Brent Barber and Guest
or
Ms. Kelsey Hagey and Guest
Use the same rules you would for any other unmarried or married couple. If the couple is married, list the names on the same line.
Ms. Katherine Waters and Ms. Nadia Porter
Or list their full names without titles:
Katherine Waters and Nadia Porter
If a woman uses her maiden name professionally and socially, the envelopes should read:
Dr. Mia Foree and Mr. Walter Riley
If she uses her husband's name socially:
Dr. Mia and Mr. Walter Riley
If both parties are doctors, you can address the outer envelope:
Doctors Mia and Walter Riley
Apply the same rules for military personnel, judges, reverends, and so forth that you use for doctors. If both titles don't fit on one line, indent the second line.
The Honorable Martha Rodgers and Lieutenant Matthew Rodgers, U.S. Navy
Or
Captains Martha and Matthew Rodgers,
U.S. Navy
This can be a touchy subject, so you want to make sure you're very specific. If children are invited, list the names on the next line after the parent's names.  Girls and young women under age 18 are called "Miss."  Boys don't need a title until they're 18—then they're addressed as "Mr."  If all children in the household are invited "and family" can also be used.
Mr. and Mrs. Kyle Graves
Matthew, Miss Sarah and Miss Kara
or
Mr. and Mrs. Kyle Graves and Family
They should receive their own invitations (unless they live at home with mom and dad).
Ms. Gabriela Martins
Or
Mr. Joseph Martins
ADDRESSES
When it comes to the address be sure to spell out all words and don't use any abbreviations.  Write "Street" rather than "St.", for example, and "Fort Lauderdale, Florida" rather than "Ft. Lauderdale, FL".  Apartment and Suite numbers should go on a separate line.  The same rules apply for the return address which is normally printed on the back flap of the envelope.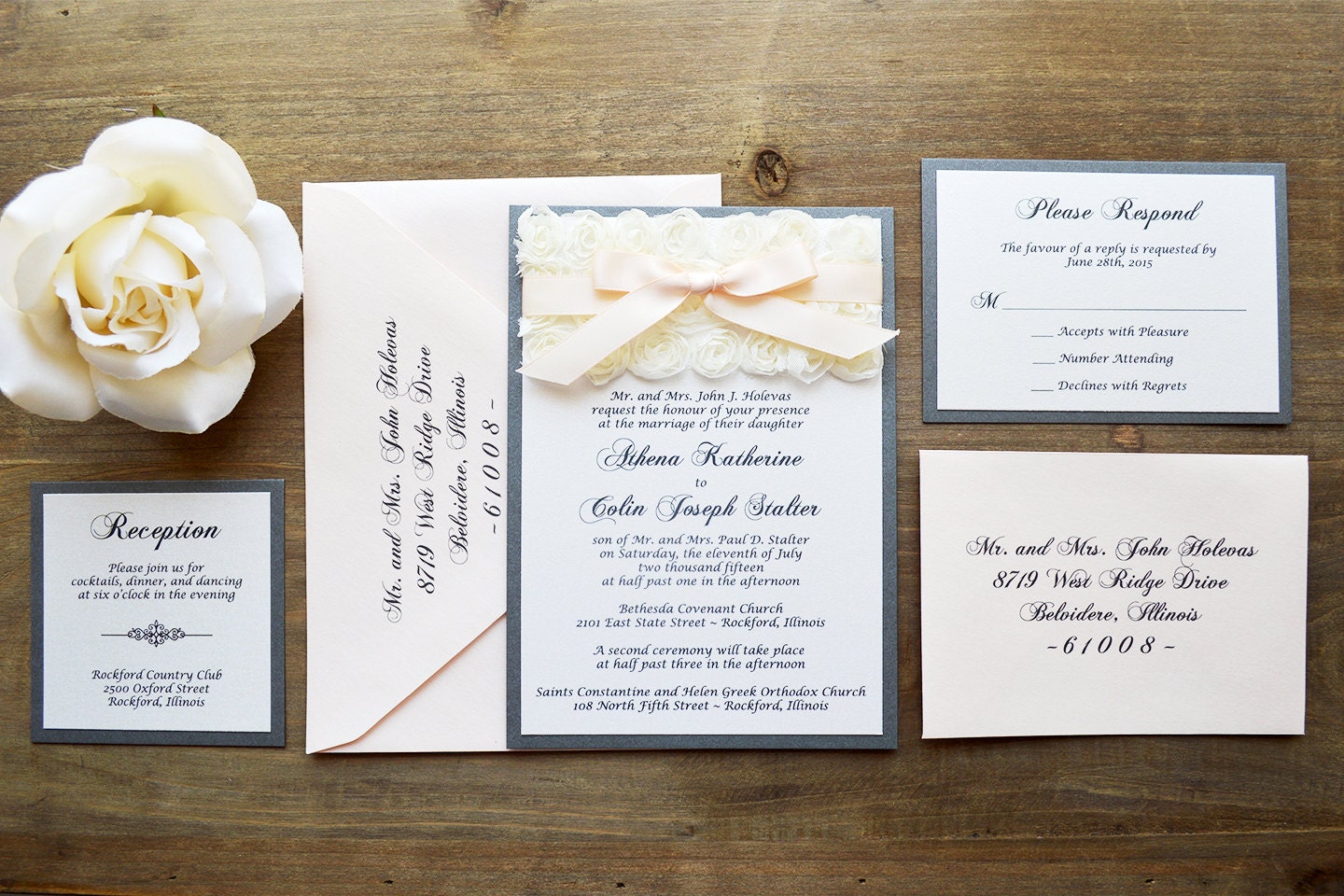 We hope this post gives you some insight to the formalities of envelope addressing for your wedding invitations. This post was inspired from The Knot's Envelope Addressing Formality post.